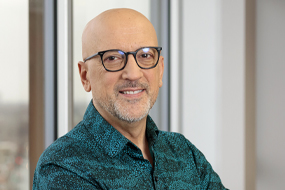 After more than 15 years of IT project management in the public health sector, Dragos Vieru joined faculty in 2011. Full Professor of Information Technology (IT), his research interests are in the areas of new technologies impact on organizational transformation, inter-organizational information systems, and global sourcing of IT services.
From 2015 to 2018 professor Vieru served as Director of the School of Business Adminitration. He is a regular researcher at the Information Systems Research Group (GReSI - HEC Montréal) and Associate Researcher at the Centre francophone d'informatisation des organisations (CEFRIO).
Dragos is Visiting International Professor at the University of Münster (Westfälische Wilhelms-Universität), School of Business and Economics, Germany.

He has published articles in several scientific journals, including the International Journal of Information Management, the Journal of Knowledge Management, the Journal of Information Technology Teaching Cases, and the International Journal of IT/Business Alignment and Governance. He has also presented his research work at prestigious conferences such as ICIS, HICSS, AMCIS, ASAC, or Global Sourcing Workshop and he chairs the Social-Technical Issues in Organizational Information Technologies mini-track at the Hawaii International Conference on System Sciences (HICSS).
Education
Ph.D., Administration (major in Information Technologies; minor in Organizational Studies)
HEC Montréal
M.Sc., Management of Information Systems
John Molson School of Business, Concordia University, Montréal
B.Ing., Mechanical Engineering
Faculty of Engineering and Management of Technological Systems, University Politechnica of Bucharest, Romania
Research Interests
The impact of the new IT on organizational transformation

Inter-organizational Information Systems

Organizational ambidexterity and Innovation


Knowledge Management and Organizational Knowledge Sharing

Global Sourcing of Information Technology Services

IT Project Management


Qualitative research methods
Teaching
Research
Research grants and contracts
"Exploring While Exploiting: The Role of Interorganizational IS in Creating Interorganizational Ambidexterity", SSHRC Insight Development Grant 2018-2021 ($63,615), main investigator, in collaboration with Bourdeau S. (ESG-UQAM) and Bergeron, F. (TELUQ) (co-researchers), and Klein, S. and Schellhammer, S. (University of Münster) (collaborators).
"Gestion d'infrastructures technologiques et applicatives par les organisations publiques: enjeux et pratiques" - grant CIRANO 2017-2018 ($42.210) - en collaboration avec Simon Bourdeau (ESG-UQAM)
"La gouvernance et l'intégration des technologies de l'information: une analyse en contexte de post-fusion" - grant FRQSC Établissement de nouveaux professeurs-chercheurs 2014-2017 ($33.782) - individual grant
"Laboratoire de recherche en Informatique Mobile et Villes Intelligentes" - subvention FCI 2013-2017 (329.769$) - in collaboration with C. Gouin-Vallerand (main investigator)
"Combining Sociomateriality Practice Perspective and Social Representation Theory to Understand KMS Use" - grant SSHRC 2013-2015 ($47.000) - in collaboration with A. Dulipovici (HEC - main investigator)
"Les compétences numériques dans les PME 2.0" - grant CEFRIO 2013-2015 ($90.000) - in collaboration with A. Bernier (ESA-Téluq) and Simon Bourdeau (ESG-UQAM)
"La dynamique interculturelle dans les équipes globales virtuelles dans le contexte d'utilisaiton des technologies de l'information" - Internal grant FAR1 2013-2014 ($7.000) - individual grant
Publications & Presentations
This section shows the documents (if any) that are available in R-libre, TELUQ's open access research publication repository.
Awards & Honors
Nominated and invited to the Doctoral Consortium of the International Conference on Information Systems (ICIS 2008), Paris, France .
Best MIS Paper Award with the title: "Telemedicine Adoption from Physicians' Perspective" at the 29th Annual Conference of the Administrative Sciences Association of Canada (ASAC) 2001, London, ON.