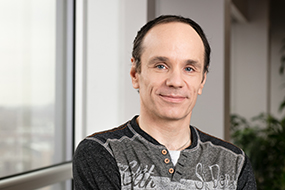 Daniel Lemire est professeur titulaire en informatique. Il s'intéresse particulièrement aux techniques d'indexation en science des données. Par exemple, il a travaillé sur les index bitmap et la compression des listes d'entiers. Il s'intéresse aussi au design des bases de données et aux algorithmes probabilistes (par ex. le hachage universel). Il aime à poser un regard critique sur l'utilisation des technologies.
Ses travaux sur les index bitmap sont utilisés par des sociétés comme eBay, Facebook, LinkedIn et Netflix dans leurs entrepôts de données, au sein des  plate-formes de mégadonnées telles que Apache Hive, Druid, Apache Spark, Netflix Atlas, LinkedIn Pinot  et Apache Kylin. Son code de compression de données est utilisé par Apache Arrow et Apache Impala. L'outil de contrôle de version Git utilise aussi ces mêmes techniques pour accélérer les requêtes. Ses techniques de compression d'index sont utilisées pour la recherche biomédicale. Certaines de ses techniques ont été adoptées par Apache Lucene, le moteur de recherche derrière des sites comme Wikipedia ou des plateformes comme Solr et Elastic. Un de ses techniques de hachage a été adoptée par Tensorflow de Google pour améliorer les performances. Son algorithme Slope One est une référence dans le domaine des systèmes de recommandation.
Il a écrit plus de 25 articles dans des revues scientifiques et un cinquantaine de publications arbitrées. Il détient des subventions de recherche depuis plus de 15 ans. Il sert régulièrement d'expert au sein des comités de programme de conférences prestigieuses (par ex., ACM CIKM, ACM WSDM, ACM SIGIR, ACM RecSys). 
Il s'investit beaucoup dans le développement de librairies logicielles open source. Il programme régulièrement en C, C++, Java, JavaScript, Python, Swift et Go. Il travaille principalement dans des environnements open source (par ex. Linux).
Il est un avide utilisateur des médias sociaux : son blogue compte plusieurs milliers de lecteurs. Il fut l'un des premiers utilisateurs de twitter: @lemire.
Quelques publications récentes
Supervision d'étudiants
Daniel Lemire supervise régulièrement des étudiants aux trois cycles universitaires. Il travaille principalement avec des étudiants qui adorent programmer et qui préfèrent les environnements open source (par ex., Linux). Plusieurs de ses étudiants aux cycles supérieurs contribuent à des projets open source sur des sites comme GitHub.
Il a récemment supervisé les thèses de doctorat des étudiants suivants : 
Jing Li, diplômée d'un doctorat en informatique (diplômée en 2016);
Samy Chambi, diplômé d'un doctorat en informatique (diplômé en 2016);
Hazel Webb, diplômée d'un doctorat en informatique  (diplômée en 2010).
Formation
Postdoctorat (Institut de génie biomédical)
Doctorat en mathématiques de l'ingénieur (Université de Montréal et École Polytechnique)
Maîtrise en mathématiques (University of Toronto)
Baccalauréat en mathématique (University of Toronto), avec mention «High Distinction»
Champs d'expertise
Science des données
Ingénierie des données
Indexation des données
Performance du logiciel
Vectorisation (SIMD)
Enseignement
Projets de recherche
Programme de recherche
Nous cherchons à accélérer les techniques d'indexation, soit au sein des moteurs de recherche ou des bases de données relationnelles. Dans le cadre de ces travaux, on exploite les développements récents au sein des processeurs courants. En particulier, nous cherchons à bénéficier pleinement de la vectorisation de ces processeurs. Un aspect important de cette recherche est la compression des index, qu'ils s'agisse d'index inversés, d'arbre B ou d'index bitmaps. L'objectif étant de faire en sorte que les index puissent résider en mémoire le plus possible. On souhaite compresser et décompresser les données à très grande vitesse en mémoire. On souhaite aussi grandement accélérer les opérations courantes comme l'intersection ou l'union.
Subventions actuelles
Faster Compressed Indexes On Next ­Generation Hardware (détails à paraître)
Data reordering for better compression in databases (Subvention à la découverte du CRSNG, 2012-2017) : 140,000$
Adapting forests to global change through high-tech field monitoring, transplantation experiments and simulation models (Fond des leaders avec N. Bélanger [responsable] et E. Filotas): 800,000$
Publications et communications
Prix et distinctions
Prix industriel
Google Open Source Peer Bonus Program (2012)
Communications primées
Best student paper award (IEEE SCC 2014)
Best paper award (CASCON 2002)
Service à la collectivité
conférences publiques
COMITÉ DE PROGRAMME DE CONFÉRENCES INTERNATIONALES
ORGANISMES SUBVENTIONNAIRES
FQRNT: comité d'évaluation 03F (informatique théorique) depuis 2007.
FQRNT: comité d'évaluation 309 (subvention d'équipe en informatique) depuis 2006.
CRSNG: comité d'évaluation du programme de subventions d'outils et d'instruments de recherche dans les sciences informatiques (2012-2015)
CRSNG: comité d'évaluation des subventions à la découverte en Sciences informatiques (2018-2020)
ÉVALUATEUR EXTERNE (DOCTORAT)
Mohammed Shaaban à l'Université Pierre et Marie Curie (2017) - dirigé par Patrick Garda.
Mehdi Boukhechba à l'UQAC (2016) - dirigé par Abdenour Bouzouane et Charles Gouin-Vallerand.
Hicham Assoudi à l'UQAM (2016) - dirigé par Hakim Lounis.
Khaled Dehdouh de Lyon 2 (2015) - dirigé par Omar Boussaid.
Martin Leginus de l'Université Aalborg (2015) - dirigé par Peter Dolog.
Ahmad Taleb de l'Université Concordia (2011) - dirigé par Todd Eavis.
ÉVALUATEUR EXTERNE (PROMOTION)
Sabine Loudcher Rabaseda de l'Université Lyon2 - dossier d'habilitation.
Jason Sawin de l'Université of St. Thomas.
Amer Nizar AbuAli de la Philadelphia University.
Jinan Fiaidhi de Lakehead University.